Dance for Hope
"Each of you should use whatever gift you have received to serve others, as faithful stewards of God's grace in its various forms. If anyone speaks, they should do so as one who speaks the very words of God. If anyone serves, they should do so with the strength God provides, so that in all things God may be praised through Jesus Christ. To him be the glory and the power for ever and ever. Amen." —1 Peter 4:10-11
What a privilege it is to be part of the Camanava Team that volunteered for HOPE Worldwide Philippines in Tacloban! There has been a global outpour of sympathies offered as well as assistance since after Yolanda devastated the region. This year is another year, and the catastrophe that was is naught but mere history now.
God has graciously put the desire in my heart to respond to the call to serve, together with Christian, Arlene, and Marie. Last December 2013, we received training in psychological trauma management from HOPE volunteers too, and two months after, we flew to Tacloban.
The most challenging times—the rehabilitation and restoration of not only the province, but of broken dreams and lost hopes. We arrived without a hint of what awaits us, with only the will to give the best we can as volunteers. On our first day, our hearts ached as we saw the city and the towns in ruins. My mind and my heart couldn't fathom the extent of the damage caused by the typhoon. I tried to look ahead, trying to figure out how these people can recuperate and get their lives back to normal knowing that they've lost everything, mostly their loved ones.
We were blessed to have Arleen Macam's parents welcome us to their home in Barangay General Luna MacArthur, a few towns away from the HOPE site in Bislig. Their home is situated in the middle of a rice field. Clean fresh air and myriads of stars at night gave us light in the absence of electricity.
After a good rest that God gave us to be equipped for the busy week, the next day we met up with HOPE coordinators for orientation. It's inspiring to see their full devotion to the tasks on hand. It's a sacrifice, driven by Christ's love, convicting, and encouraging to the faith, a true compassion for the needy, truly worth imitating.
We gave a thousand packs of relief goods and rice donations in Barangay San Roque in Tanauan. The HOPE staff and other volunteers were assigned to different drop-off sites, and our team was assigned in an area safe for children to stay in Barangay Bislig in Tolosa the following day. We had a great time feeding the kids, teaching them Bible stories, songs, making crafts, and doing physical exercises.
Our arts-and-crafts session displayed the optimism, wishes, and high hopes of the children through various drawings of houses, schools, sunshine, rainbows, trees, flowers, birds, and blue skies. But the drawing that caught my attention mostly though was a sketch of Jesus Christ on the cross.
Christian and I also taught the kids a dance presentation for the visiting foreign HOPE directors. Thankfully, our partnership worked wonders as God gave us the spirit to do a segment of the choreography for the song "Hari Namin" which D4G performed during the Philippine Discipleship Conference last October 2013. The joy we saw in their faces was a great motivation. Dance is truly an art form that can also be a therapeutic aid. Amazingly, they are fast-learners, and with grateful hearts they exude inner strength in spite of their current condition.
Others have taken notice of the song's lyrics, which according to them lifted their spirit and brought nourishment to their hearts. It gave an encouragement to them knowing that amidst all the trials, we still have a loving God. Because of this, I am sending them a copy of the In Hymn album for more songs that will surely bring healing to their soul. How we wished that we had time to teach in another HOPE site in Barangay Quilao in Tolosa. This mission made us feel that God just worked through us to give them hope despite the gloomy devastation, encouraging them to stand up again.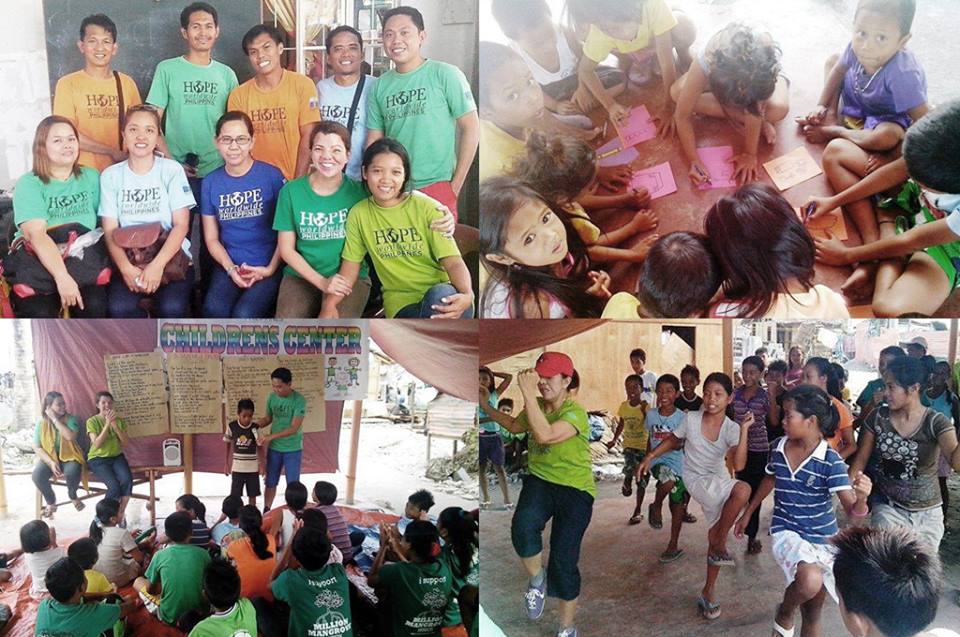 Some of the people in the community that we lived in started asking why we were there. So we took the opportunity to share Christ's love, and we told them, "We love you so much that we were delighted to share with you not only the gospel of God but our lives as well, because you had become so dear to us." (1 Thessalonians 2:8)
Ate Nene, who joined us in our HOPE activities with the kids, said that she was so impacted that she initiated to visit our Tacloban church, along with Arlene's mother and other relatives, even though it was quite far away from her. She is now eagerly studying the Bible.
Such wonderful stories happened in just brief a time. How we wished we could go back! Truly, joy overflows when love multiplies.
Jeremiah 32:38-42 says, "They will be my people, and I will be their God. I will give them singleness of heart and action, so that they will always fear me and that all will then go well for them and for their children after them. I will make an everlasting covenant with them: I will never stop doing good to them, and I will inspire them to fear me, so that they will never turn away from me. I will rejoice in doing them good and will assuredly plant them in this land with all my heart and soul. This is what the Lord says: As I have brought all this great calamity on this people, so I will give them all the prosperity I have promised them."