The Joy Of Being A Wife, A Mother, And A Woman Of God
"Who said your husband needs to be awesome for you to have peace of mind?"
This was Che Maramara's mind-boggling opening question to all married women who attended the first congregational married women's workshop last February 23, 2014 at the Bayanihan Hall, Kapitolyo, Pasig City.

Everyone cheered, laughed, cried, and lent their ears to the resource speakers as they shared their lives, hearts, and expertise on various topics relevant to all women from all walks of life. Keynote speakers MMCC Head Administrator Che Maramara, entrepreneur Donna Sanchez and Women's Ministry Leader Faridah Enrile shared about how being a wife, a mother and a woman of God should inspire the attendees to (i) lead pure and reverent lives (1 Peter 3:1-2), (ii) encourage and empower their children by giving them roots and wings, and (iii) strive to be gentle and learn to call for help when needed (Philippians 4:2-9).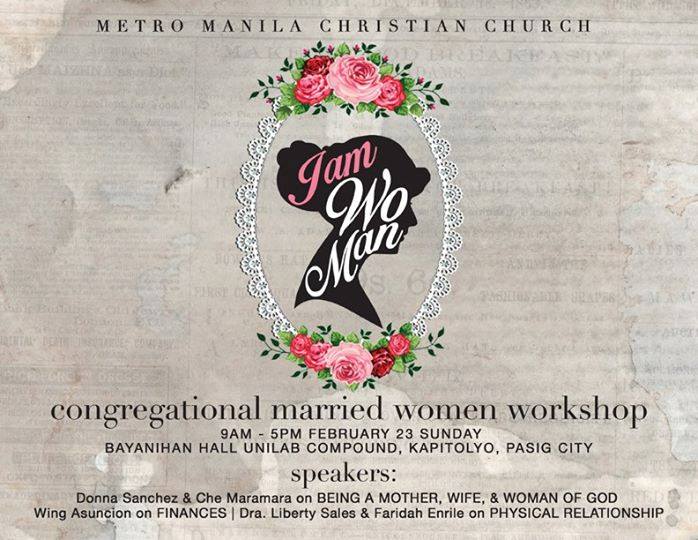 The afternoon sessions were even more engaging as speakers OB-Gyne specialist Dr. Liberty Sales and Faridah Enrile discussed about the importance of physical and spiritual intimacy for all married couples. It was followed by a talk by career woman Wing Asuncion who instilled the real values of trust in God and gratitude when it comes to handling finances.
Indeed it was a refreshing and penetrating workshop for all the participants. Questions and comments flooded the morning and afternoon's Q & A portions. While many questions sought advice on how to deal with their spouses and children, one participant commented that she can't wait to go home to be with her husband and her daughter. Truth is, being a wife, a mother, and a woman of God altogether can be a tedious task and a difficult role to begin with. But by rediscovering God's wisdom through the bible and by knowing that you have God's as well as your spouse's and friends' support, it can also be a source of overflowing joy and abundant blessings that will ultimately make you a better woman.