Build In Your Youth 2016 Philippine Teen Camp
Joining the teen camp had always been the best way to learn and experience God as a youth. I was 14 when I had my first ever summer camp. I still remember those times vividly—the faces of my teammates, the hardships we need to go through from town A to town D as part of amazing race (what with difficult math, science, and Bible trivia questions along the way), the singing of songs, bonfire devotional followed by talents' night, quiet time by the shore, etc. Every activity had its own impact, which resulted to my transformation from being timid to becoming confident, from being a follower to becoming a leader, from being selfish to displaying selflessness, and literally from being fair to having dark complexion. Yes, it had an effect; seeds were planted in me resulting to my confession: "Jesus is my Lord."
This year, 184 participants from 11 regions of the Metro Manila Christian Church and 6 provincial churches in Luzon joined the 2016 Philippine Teen Camp last May 3-5, 2016. Along with 26 counselors, the camp kicked off with a half-day workshop at the CAP Building in Makati, followed by a two-day activity at Chateau Royale, Nasugbu, Batangas.
The kick-off workshop conducted by Bobby and Susan Montealegre, Camp Directors, focused on two points: "Build Up: Who Are You?" and "Build Up: Whose Are You?" It allowed the teens to know themselves more by identifying their strengths and weaknesses. In this activity, the teens were also asked to identify their gifts and talents and use them in building God's glory.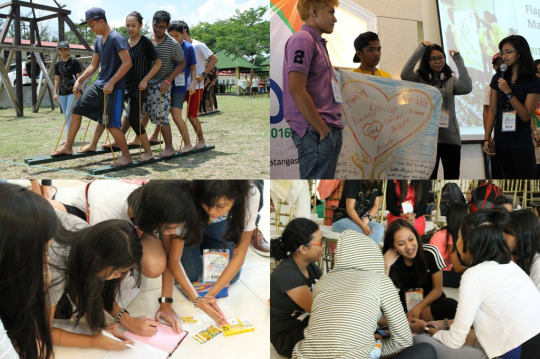 The participants were grouped into 6 teams representing 6 virtues: Loving, Faithful, Hopeful, Pure, Patient, and Grateful. Like other camps, their creativity was enhanced as they created their own flags, choreographed their own cheering presentation, and participated in various outdoor team building activities.
Unexpressed joy, victory, breakthrough due to enhanced strengths—I've seen them plastered in their faces. As they struggled to fill up jars with holes using their own bodies, bringing everyone from point A to point B without touching the ground, and going out beyond the boundaries (if touched, they will start all over again), they realized that it takes a lot of values—love, hope, faithfulness, gratefulness, patience—oh yes, their group names, to overcome a struggle. As a teen commented, "Kailangan nating takpan lahat ng butas. Ayun yung mga sins, kasi kapag hindi yan natakpan, hindi tayo mapupuno." (We need to seal every hole. These are the sins, because if we don't seal them, we cannot fill this up.) Truly, it was an experience with God.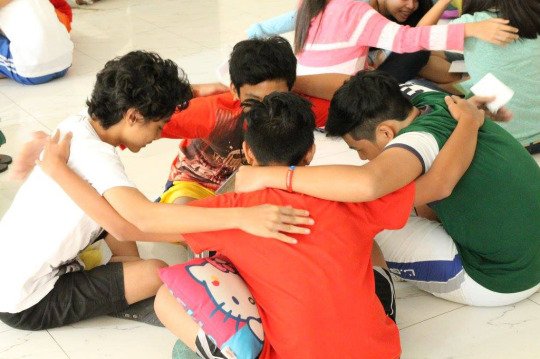 After building relationships, the next agenda was building up oneself. The Saturday afternoon activity was physically light, but emotionally heavy. I saw smiles as they shared their thoughts and listened to compliments from their own group. Eventually, when the counselors distributed the love letters from their parents, I saw tears of joy rolling down their cheeks. Then I heard a teen said, "Ansarap ng feeling kasi ngayon lang ako nakatanggap ng letter. Nabasa ko na ganun pala ang pagmamahal nina Mama sa akin. Tutulong na ko sa bahay." (It feels good because this is the first time I received a letter from them. I now know how much they love me. I will help out in the household chores from now on.) How I wished their parents could see their faces, the joy of having them as mom and dad.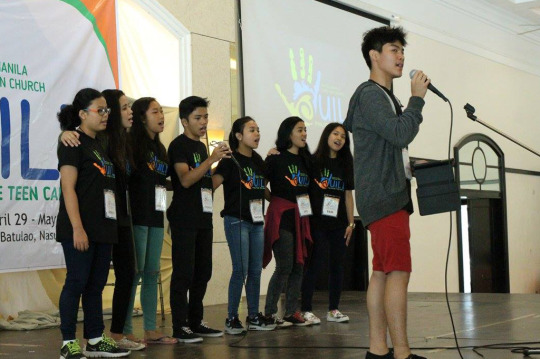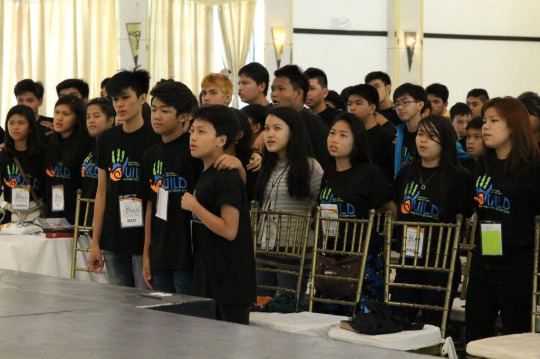 The third day was a time to praise and worship God. After the short Sunday worship service, a lesson about two of the major concerns which teens face nowadays was shared: responsible netizenship and being set apart (e.g. peer pressure, purity/dating, etc.). Backed by scriptures, they were inspired to keep holiness in mind prior to making decisions.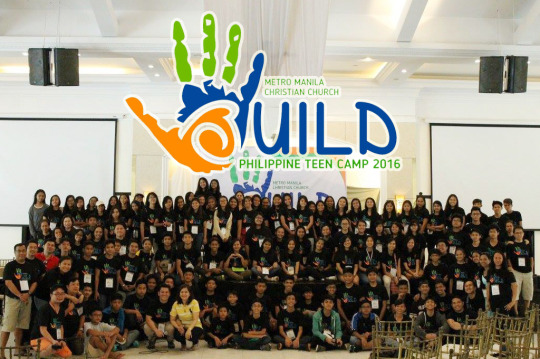 These three days of building oneself, relationships, and convictions. I believe that God moved powerfully in the hearts of the youth. As of now, there are 123 teens who are eager to study the bible. To God be the glory!
"This year's camp really motivates me to stand out in my faith. Thank you God for 3 days of learning, enjoyment, building friendships, and growing deeper in our faith." — Josh Pau de Asis, Makati Sector