ICOC PH churches growing through Covid-19
What's so amazing about this "New Normal" brought about by the coronavirus disease (Covid-19) pandemic is the boundless opportunities for the Word of God to be preached even in areas that were not usually reached before. As of July 2020, ICOC Philippines has over 500 persons virtually studying the Bible from all over the country and as of June 2020, a total of 128 were baptized and 18 got restored, Amen! God has indeed opened the hearts of people to seek the truth and experience faith come alive through the lives of those who were transformed by His Word despite the prevailing crisis.
New ministry in new province
ICOC Albay restored Fernan Montales, a public school teacher, on May 3 during lockdown after 17 years of spiritual wandering. He was a young missionary to ICOC Naga in 2000 but left the church in 2003. He then returned home to San Fernando, Province of Masbate where there was still no established ICOC church. There were times he wanted to visit the neighboring city church in Legazpi City, Albay Province but he had no money. Yet, God still worked on his behalf as he landed a teaching position with the Department of Education and the couple leading the church where he was attending in Masbate became disciples in the United States. This really awakened him at last and the lockdown due to Covid-19 gave him ample time to study the Bible online and after taking all challenges and repenting of all his sins, he was restored.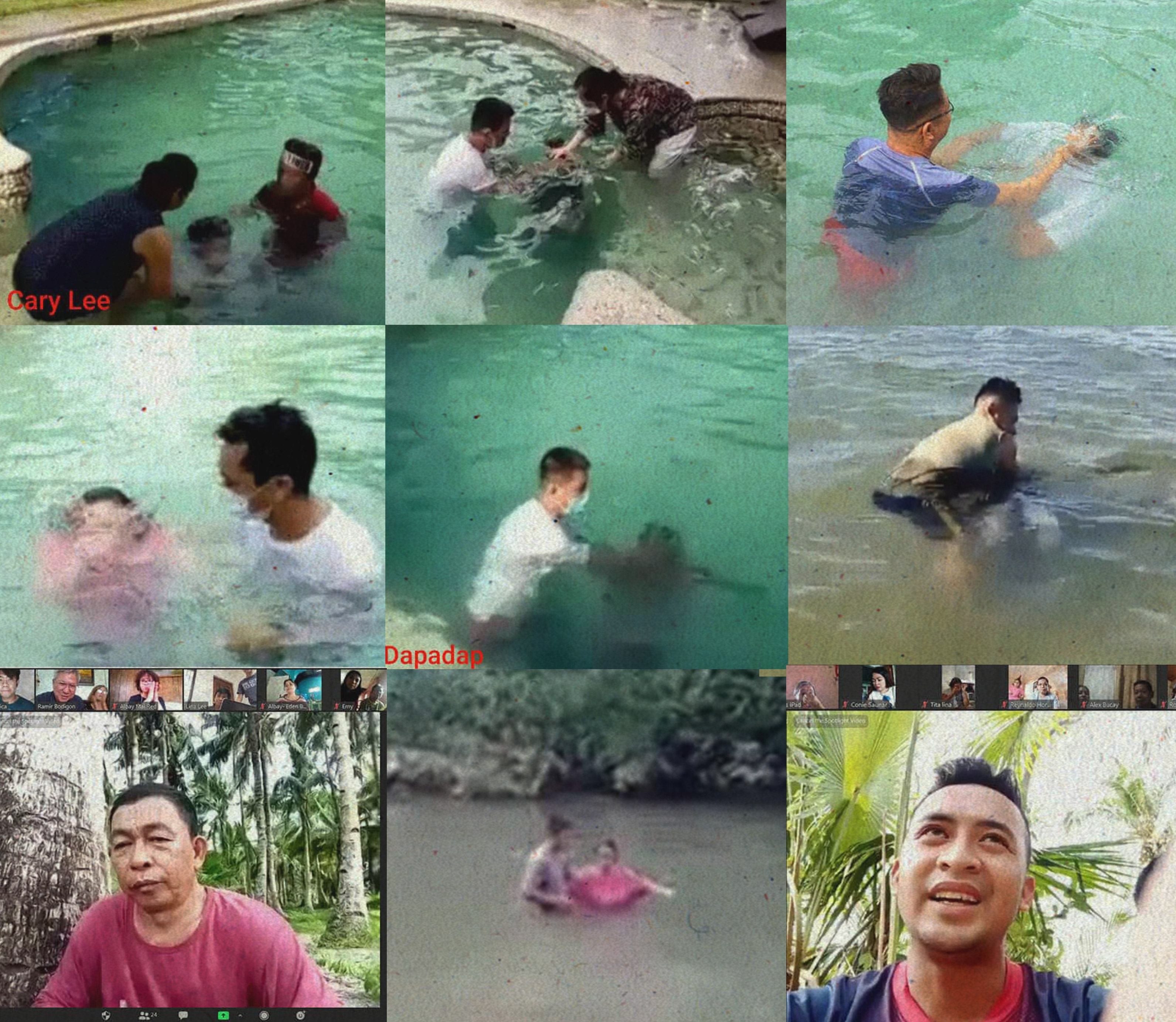 No doubt, God used him to jumpstart a ministry in Masbate with the help of Tatay Erly and Nanay Lina Lee. After him came nine new more brothers and sisters who also made Jesus their Lord and got baptized - Elisar Angustia, a youth leader in their old church, (May 31), Rene Dapadap, a pastor (June 14), Cary Lee (June 21), Michelle Lee (June 21), Jared Dapadap (June 21), Gloria Capisnon (June 28), Asuncion Dapadap (July 5), Roberth Ramirez (July 12), and Victor Aguirre (July 12). Elisar was among the four children Fernan adopted when he was teaching at a remote area in the province. ICOC Albay church minister Ramir Bodigon said, "God is just so amazing since we have been praying for Masbate being the only province in Bicol Region without a disciple before. Now there are 10 disciples there and five more persons are currently studying the Bible virtually."
During the pandemic, two were also restored and one was baptized in Legazpi City; one was restored in Sorsogon Province and another was baptized in Catanduanes Province. To God be the glory!
Covid-19 in the PH
The coronavirus disease (Covid-19) pandemic continues to wreak havoc in the Philippines with a total of 74,390 confirmed cases, 24,383 recoveries, and 1,871 deaths as of 4 p.m. of July 23. Philippines ranked second in Southeast Asia, 12th in Asia, and 30th in the world, according to worldometers.info.
The surge of positive Covid-19 cases is due to the loosening of quarantine control measures as the national government, through the Inter-Agency Task Force on Emerging Infectious Diseases, gradually opened economic activities in the country.

(Covid-19 survivor Rodil Ocfemia of ICOC Cavite, right, studies the Bible with his hospital roommate until Discipleship study before they shifted to Zoom Study with other brothers.)
Rodil Ocfemia of ICOC Cavite was among those who recovered from Covid-19. Yet, his illness did not stop him from reaching out and studying the Bible with his hospital roommate who already finished the virtual Lordship study on July 22 even after Rodil was discharged on July 4 following his swab test that yielded negative result. The 25-year-old disciple tested positive of the virus on June 11 after manifesting Covid-19 symptoms like fever on June 4.
Meanwhile, the Philippine Statistics Authority reported about 7.3 million Filipinos left unemployed as of April due to the pandemic. Unemployment is expected to balloon in the coming months as more establishments have shutdown and laid off workers due to devastating financial losses.
Virtual worship guidelines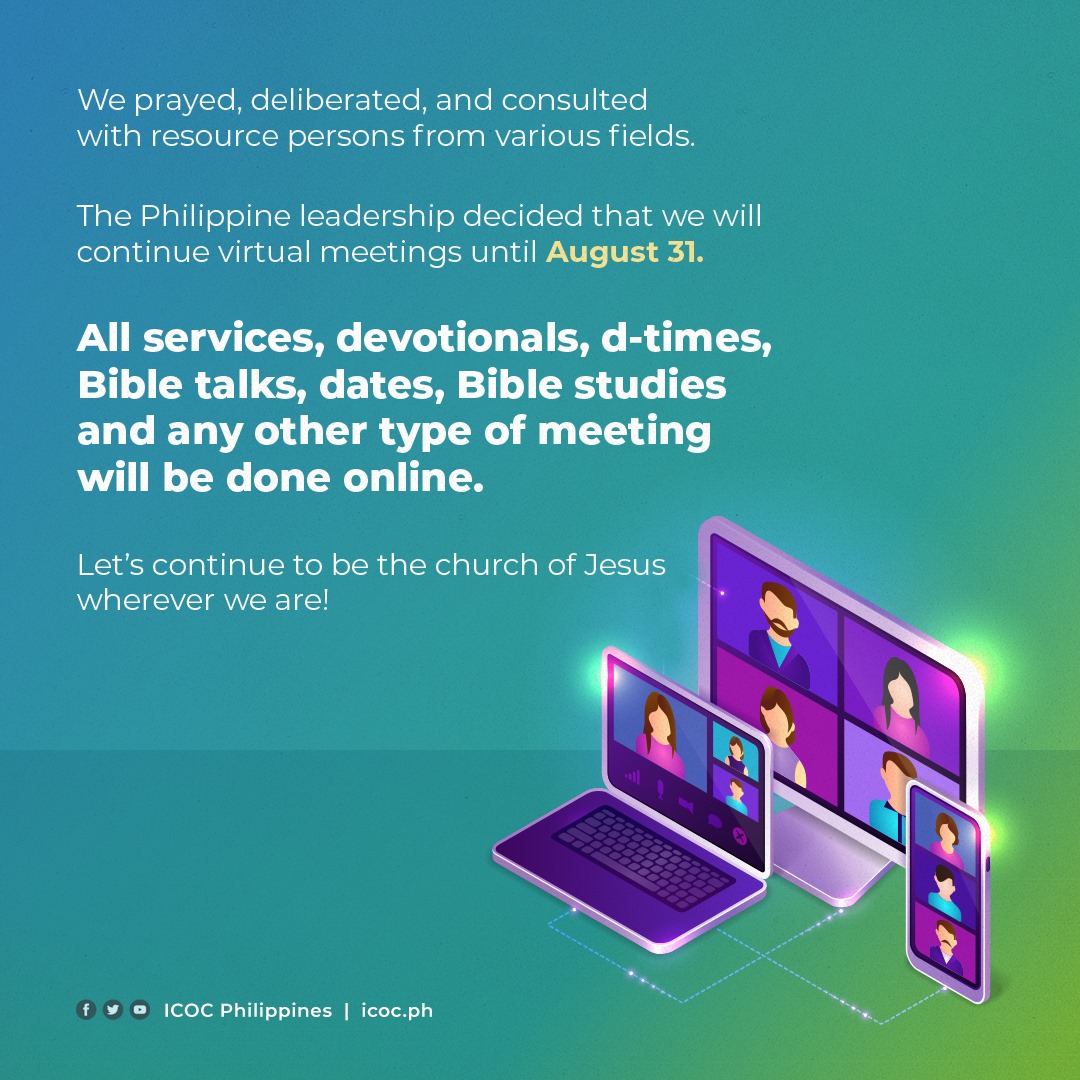 While some non-ICOC churches have resumed their physical services with limited number of attendees, the ICOC Philippines family of 31 churches in cities and provinces and 11 Metro Manila sectors, continues to meet online until August 31. The Philippine Leadership Council (PLC), composed of Elders, Teachers and Evangelists, issued a church wide guideline after much prayer, deliberations and consultations with resource persons from various fields.
"All services, devotionals, d-times, Bible Talks, dates, Bible studies, and any other type or meeting will be done online," said the PLC statement.
ICOC Philippines started virtual meetings since mid-March this year when the government enforced a lockdown.
The PLC will again issue another statement whether to continue the virtual meetings after August 31.