ICOC PH launches 'Girl Talk'
To say that women love to talk is an understatement, wouldn't you agree?
An indicator of that would be an often cited statistic that women speak an average of 20,000 words per day while men utter a daily average of 7,000 words.
Whether that is true or not, the fact remains that women have been bestowed by God this special gift of talking. And what better way to engage women of the ICOC Philippines than having a "Girl Talk", a Vlog by women for women, which was launched on August 26 via ICOC Philippines YouTube Channel.
Elder's Wife Susan Montealegre said, "This is an initiative of the PLC Women to meet the unique needs of the women of ICOC PH during these unprecedented times. The monthly video message is meant to uplift and encourage the faith of every sister in the congregation."
The Philippine Leadership Council (PLC) is composed of the ICOC Philippines' elders and their wives, teachers and their wives, evangelists and women's ministry leaders.
Saun Galang, an original mission team member to the Philippines, was the inaugural speaker of "Girl Talk". She discussed "Having a Positive Mindset".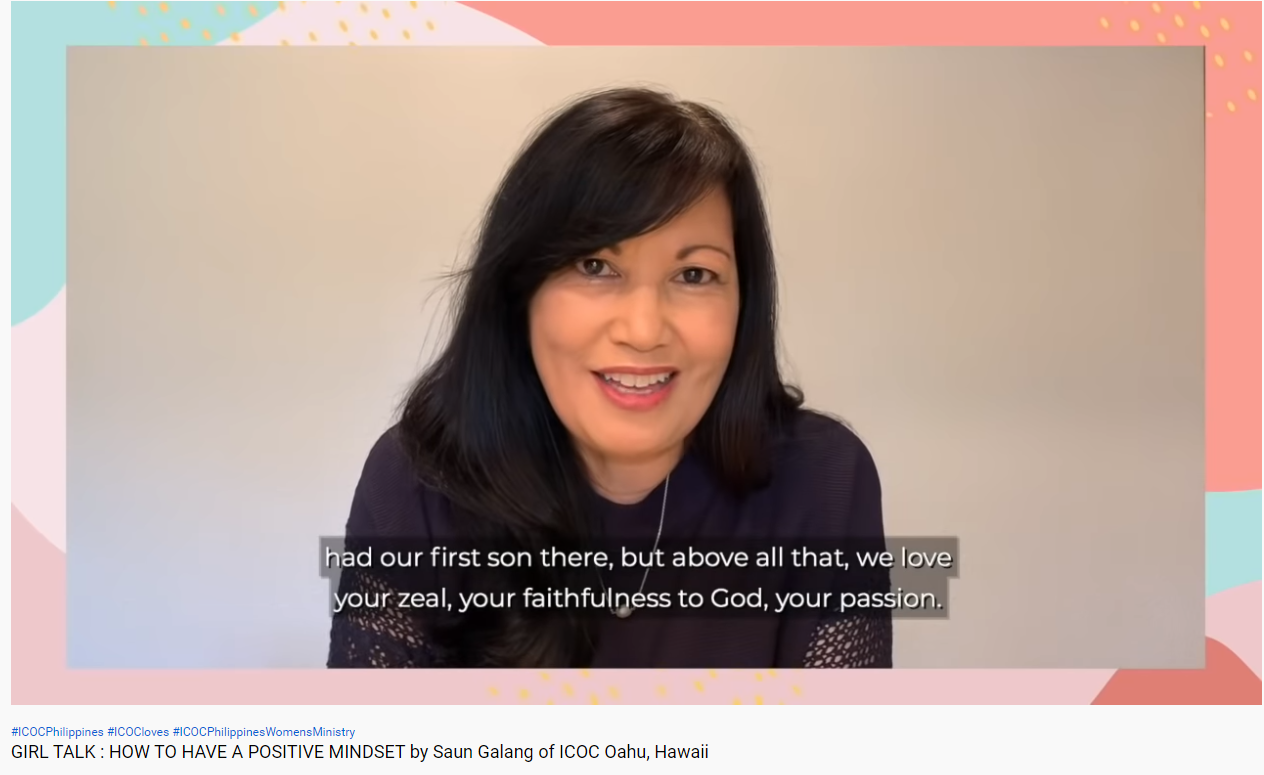 Saun, who is currently serving the Oahu Church of Christ in Hawaii as women's ministry leader with her evangelist husband Anthony, underscored two points: 1. Choose hope (Romans 4:18-21, Psalm 39:4-7, Lamentations 3:21-24, Lamentations 3:31) and 2. Choose life (Deuteronomy 30:19-20).
She said while Abraham, against all hope, believed that he could be the father of all nations. She also cited David, who wrote Psalm 39, and the author of Lamentations for
verbalizing their doubts and hurts but reframing their thoughts at the end of their prayers.
"The (Lamentations) author's heart was broken but he looks to God saying that great is his unfailing love. This brought me so much peace in my life knowing that God is with me," she said.
As what renowned professional coach Elaine Taylor-Klaus said, "Negativity happens." But Saun said "positivity and faithfulness" are vital keys to overcome it.
Moses, who undergone much testings in his life from being adopted as a baby, having committed murder, talking to Pharaoh to free the Israelites and leading them to 40 years of wandering in the desert, urged the Israelites to choose life and listen to Godwhile on his death bed.
"Just like Moses, we can make a difference in the lives of others. We can speak life to others... words that build, words that are fruitful and manifest God's will and purpose. Speaking life is intentionally honoring God," she added.
To watch Saun's recorded message, please click Girl Talk: Having A Positive Mindset.
Watch out for upcoming episodes of "Girl Talk" every 8 a.m. of the last Wednesday of the month.
Other guest speakers are Jennifer Lopez- "Christianity at Home", Marie Arcellana - "Bloom Where You Are Planted', Sirikit Umaguing - "Grace and Forgiveness", and Marivic Guda - "Finding Joy".