Over 5,000 worship together in ICOC PH Online Easter Service
For the first time in the 30-year history of the International Churches of Christ (ICOC) Philippines, over 5,000 disciples from 31 city churches and 11 Metro Manila sectors came together for a nationwide online congregational Easter Sunday worship service via Youtube and Facebook on April 12.
It was indeed refreshing and encouraging to see brothers and sisters along with families and young children leading the singing of popular Kingdom songs to set the hearts of disciples, who have been locked down in their respective homes for almost a month now due to the Covid-19 pandemic, to worship God.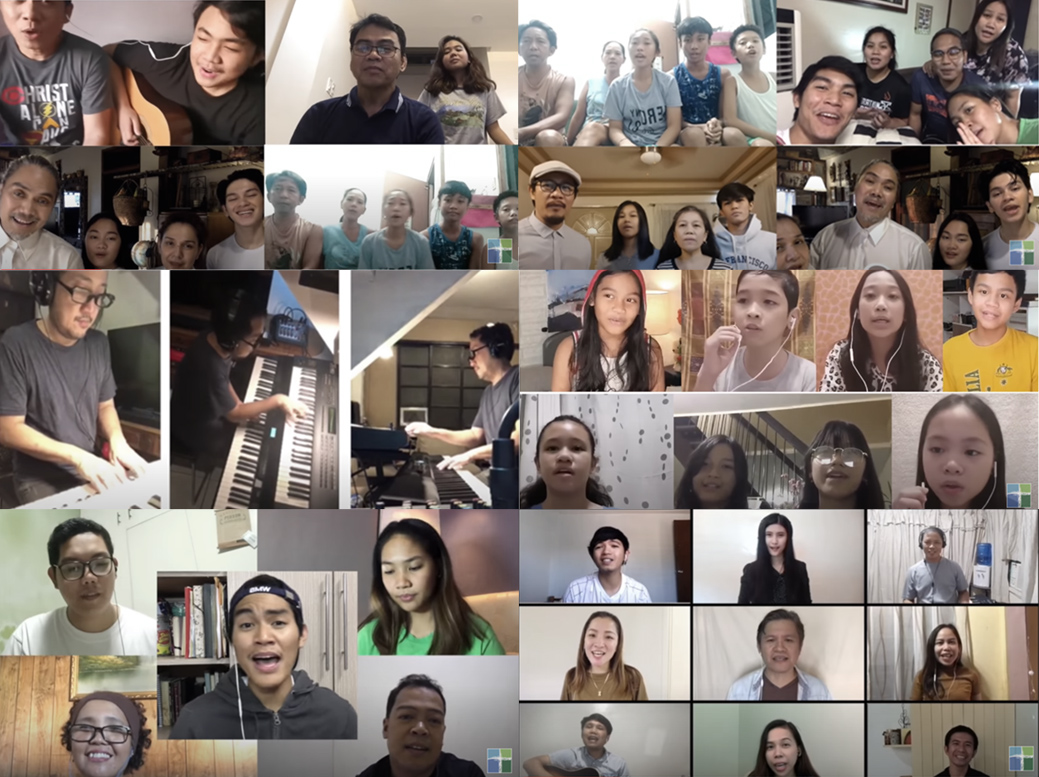 Live chats and comments on ICOC Philippines' social media accounts showed how the Christians miss the fellowship and how they appreciate the messages shared by Evangelist Danny Cabadsan of ICOC Cebu (welcome and updates), Evangelist Francisco "Koko" Enrile of ICOC Makati (giving) and Congregational Teacher Dr. Rolan Monje (communion and sermon). Evangelist Ariel Lastrado of ICOC Manila earlier gave the introduction then he also shared his closing remarks and announcements for a fitting end to the awesome service.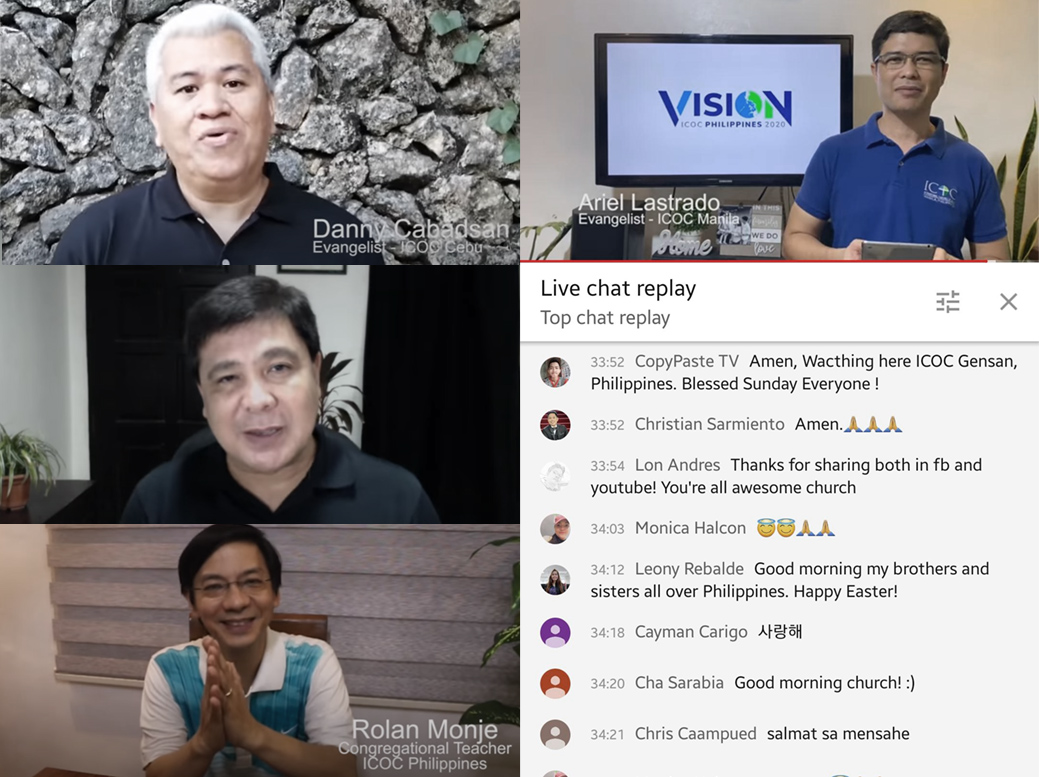 Danny, attributing to Lamentations 3:22-25, said it is comforting to be reminded that every single day we live is a gift from God.
"Let's lift up our hearts to God as He is faithful. God's love is always fresh. His grace is always fresh," he said, also praising the Lord for the 22 new brothers and sisters who were baptized and two restored in just one month as 340 online Bible studies are also ongoing all over the country amid the enhanced community quarantine.
Manong Rolan, in his The Story of the Saved message, focused on 1 Peter 1:3-9 with two points: 1. Trials laid out and 2. Joy uniquely felt. He said trials help one mature and to prove one's faith genuine.
"Our faith is important to God. Our faith is like gold that has to go through fire. But our faith is more important than gold to God," Rolan said in Filipino. He continued, "No matter where we are at. God will somehow strengthen us. God will give us enough in order to endure."
(ICOC Philippines Teacher Rolan Monje talks about faith refined by trials and the assurance of an everlasting inheritance.)
He also said Jesus went through all kinds of sufferings and all kinds of trials, enduring the worst at the cross to save mankind.
"He surrendered himself on our behalf. Jesus is the ultimate picture of sacrifice, of giving, of surrender and perseverance. With his death and resurrection, we can make it til the end. His resurrection reminds us that all trials are temporary. All temptations don't last forever. All setbacks can be turned to positive. We can overcome the impossible," Manong Rolan said.
He also reminded disciples on the spiritual inheritance, which apostle Peter described as never spoils nor fades, kept in heaven for God's faithful ones.
He added, "Even with the trials we greatly rejoice. There's joy in the idea that we are taken care of. We are powerfully guarded as we are moving in our journey. We are protected as God intends we will make it to the end and receive our inheritance at the end of these trials."
This inheritance, he said, is gained during this lifetime of present sufferings with God helping us get to the end.
You may click this link below for ICOC Philippines Easter Service:
https://www.facebook.com/icocphofficial/videos/917282598693538/