Get Ready for Gen-Z Con: Unveiling "His Truth"!
Get ready, teens and Envolve! The Gen-Z Conference is here to uncover "His Truth" and ignite your spiritual growth.
Hosted by ICOC Philippines, this conference is your dedicated space for meaningful connections and engaging discussions. In today's fast-paced world, finding purpose and connections is crucial. "His Truth" offers a sacred platform tailored specifically for teens and Envolve ministries, where you can draw inspiration and forge deep relationships.
Join us on July 23 as we kick off this transformative journey with a powerful worship service. Immerse yourself in a vibrant atmosphere of praise, worship, and spiritual connection, setting the foundation for the incredible days ahead.
From July 28 to July 29, get ready for captivating activities and meticulously curated workshops. Equip yourself with essential tools, knowledge, and inspiration to confidently navigate your spiritual path. Engage with inspiring speakers from diverse ministries who will share insights, wisdom, and personal stories, igniting the flame of faith within you.
But that's not all! On the evening of July 28, brace yourself for an electrifying mixer party. Connect, socialize, and form lasting friendships with like-minded individuals from various sectors and provinces. Dance, revel in live music, and celebrate the unity of faith in a joyous and uplifting atmosphere!
Join us at Megatrade Hall 1, SM Megamall, as close to 700 Gen Z delegates from Luzon, Visayas, and Mindanao gather to celebrate their unique voice and unwavering faith. This conference is an incredible opportunity to embrace your spiritual truth and leave a lasting impact on the world around you.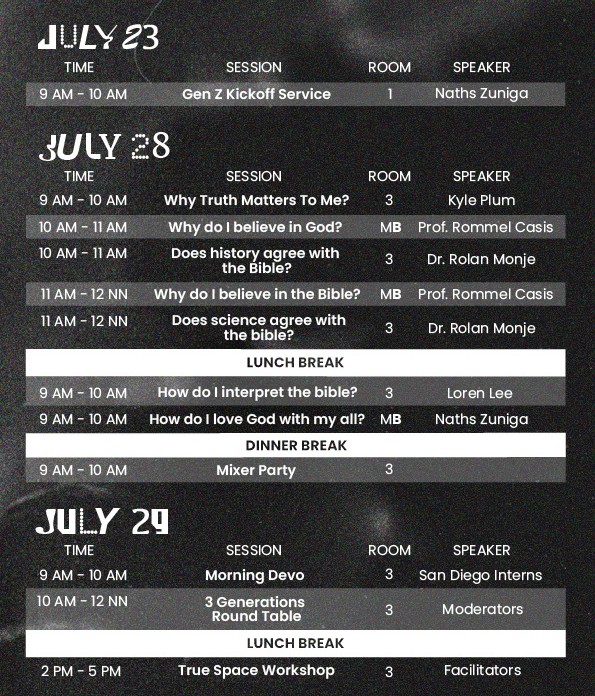 Stay connected with ICOC Philippines and Envolve ICOC PH Official to receive the latest updates and ensure you don't miss any part of this remarkable journey. We can't wait to see you at "His Truth," where your spiritual growth and connections await!